Emmanuel Caudillo
Senior Advisor, White House Hispanic Prosperity Initiative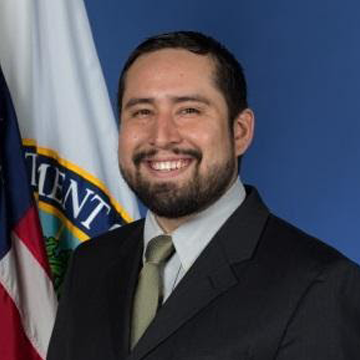 Emmanuel Caudillo (Washington, DC) is a senior advisor to the White House Initiative on Educational Excellence for Hispanics. In this role, he oversees the operational duties of the initiative, outreach to Hispanic Serving Institutions, managing Hispanic education resources from Federal agencies, and conducting youth engagement activities. From 2009 to 2013, he was a budget analyst at the U.S. Department of Education, overseeing the student aid administration account. In that role, he prepared the congressional justifications for the salaries and expenses of the Office of Federal Student Aid. He has also held research positions in various organizations, including Abt Associates and the National Council on Teacher Quality. Caudillo is active in his community. He currently serves President of the Young Education Professionals of the District of Columbia, Vice President of Management for the Virginia Jaycees and serves as citizenship teacher at CARECEN. He has been recognized as a 40 under 40 honoree by Leadership Arlington for his volunteer work. Originally from Los Angeles, he holds a bachelor's degree from the University of Southern California and a Master of Public Policy from The George Washington University.
---
Panel Information
Saturday, April 17
11:30 AM EST
Session One: Education Equity for All
As we prepare for a new school year, how do we ensure Equity for All in Education? LULAC Ohio Summit will provide government officials, advocacy leaders, and community members the opportunity to connect and discuss efforts.
Register for the Summit