DC LULAC Youth

DC LULAC Youth Prepared for the Real World One Lesson at a Time
By Jesse Garcia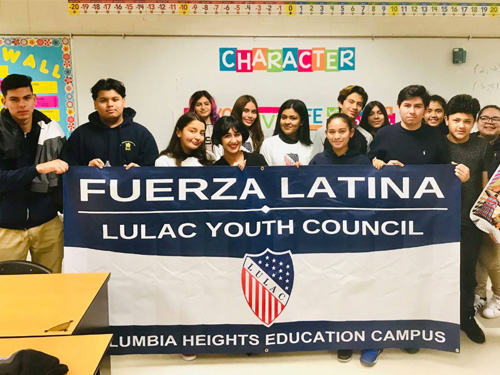 Tying your first necktie for a future job interview. Giving speeches on noteworthy Latinos and Latinas ignored by U.S. history books. Learning about consent and HIV prevention from promotoras invested in healthy Hispanic communities.
Those lessons were just some of the topics discussed in the inaugural year of two brand new youth councils started in our nation's capital. So much was packed into the first year of LULAC Youth Councils 17001 and 17002 that next year's lessons have a hard act to follow.
In the fall of 2018, members of sponsoring council LULAC 11125 (aka LULAC Lambda – a DC council founded by LGBTQ+ Latinx professionals) wanted to get more invested in their community so they decided to mentor youth.
The ambitious council launched, not one, but two LULAC youth councils that would concentrate on professional development, Latinx history, and community service.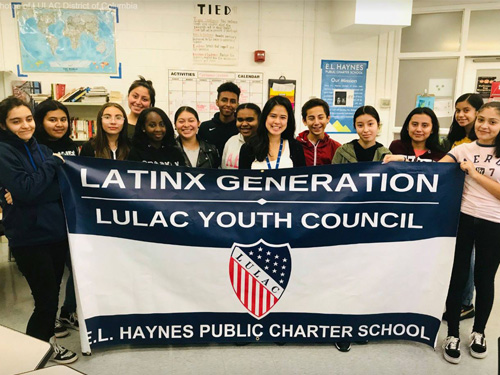 They targeted campuses with significant Latinx populations and found two great schools: E.L. Haynes Public Charter School and Columbia Heights Education Campus.
LULAC Lambda members made sure to attend each meeting to help both councils get off the ground. A combined 40 students signed up in September 2018, and both councils started meeting every two weeks to learn about ways to get into college, careers in demand, and social issues facing young people and the Latinx community.
At E.L. Haynes, students launched the Latinx Generation LULAC Youth Council. Council members learned a lot about public service. They met representatives from Peace Corps and the U.S. Armed Forces, and the youth traveled to Capitol Hill to learn more about the Legislative Branch of government and to meet with their congressional representative U.S. Delegate Eleanor Holmes Norton.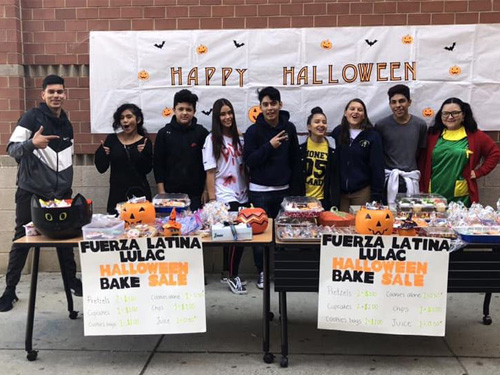 Over at Columbia Heights Education Campus, members named their group Fuerza Latina LULAC Youth Council. Youth learned about careers in law, medicine and engineering. The group also dedicated time to volunteer projects, including cleaning up the banks of the historic Potomac River, which provides 90 percent of the drinking water to the area. They picked up nearly 700 pounds of trash in just three hours on a Saturday morning.
One of the best guest speakers both councils welcomed this past year was during Hispanic Heritage Month. A representative from a nationwide Latinx firm came to speak about the proposed National Museum of the American Latino. Students were thrilled at the idea that they may see a new Smithsonian Museum in their lifetime built on the National Mall to honor their history and culture.
Overall, it was a great and fulfilling year for these LULAC youth, but the ultimate measure of success for these councils is on-time graduation. We're happy to report that all seniors—Latinx Generation's Outgoing President Fatima Leyva and Fuerza Latina's Maritza Mundo and Gerardo Hernandez—will be graduating this May. See you next year!