Joél-Léhi Organista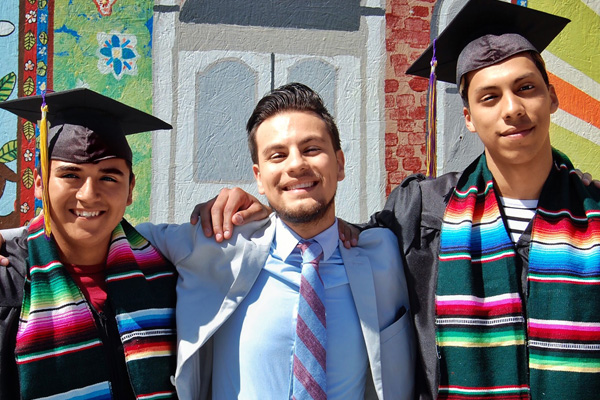 Originally from Mexico City, Mexico, but raised in Salt Lake City, Utah; Joél-Léhi has spent over a decade leading in social justice and activism across the US. Producing a film documentary titled Red Flags: Racism & Ethnic Stereotyping in Utah Schools at age 15, co-founding the National student Bill of Rights movement at age 16 years old, and presenting at the United Nations IV World Congress on Child and Adolescent Rights at age 18, are all just small examples of what he has accomplished as a teenager.
Joél-Léhi is currently the elected LULAC National Vice President of Youth and the first LULAC national executive board from Utah. He joined LULAC as a young adult in 2013, but was present as a youth member back in 2009 when LULAC was founded in Utah. He didn't join as an adult until after returning back from being a full time volunteer missionary for The Church of Jesus Christ of Latter-day Saints in Tokyo Japan for two years. Since joining, he has always held various state level positions in LULAC including state deputy director.
Joél-Léhi has always prioritized his education. He created his own interdisciplinary bachelor's degree titled Social Justice Pedagogy at the University of Utah. Additionally, he got his Applied Positive Psychology certificate from the University of Utah. His master's degree is in Sociology & Education, with an emphasis in Education Policy, Organizational Leadership, and Technology from Columbia University, Teachers College.
He's taught high school health in Salt Lake City and also was an appointed state advisor on equity issues to the Utah State Board of Education. He's received a state level from the governor of Utah for his teaching, has been recognized by LULAC with two national awards, and a national award from the multicultural fraternity Omega Delta Phi Fraternity Inc. for the pioneering work he did as the National Director of Diversity.
Joél-Léhi currently also serves as the National President of the Education for Liberation Network, which bring together organizers and activists that range from educators, parents, and youth of color dedicated to moving forward the work in the education justice movements. At age 23, Joél-Léhi became the founder of the 501c3 nonprofit Casa Quetzalcoatl, which uses indigenous epistemologies and a cross-generational approach in empowering the Latinx community in Utah. Then later at age 25 as an entrepreneur, he is the founder of the ed tech start-up app Machitia, which is the platform for educators to create, share, and collaborate transformative lesson plans.
Almost 10 years later after his first time presenting with the United Nations, Joél-Léhi now serves on the Youth Sub-Committee planning team for the 68th United Nations Civil Society Conference. This year's conference is themed around sustainable and inclusive communities.
LULAC is the prime space for young Latinos like Joél-Léhi, who have knowledge that goes beyond the formal education they invest in, who root themselves to their community, who lead their community both locally and nationally, and who have a passion to social justice! LULAC continues to seek young Latinx leaders that understand the power of organizing collectively and having the back of the largest and oldest Latinx civil rights organization in the country.