Available Grants
LULAC's programs revitalize Hispanic neighborhoods from within by creating innovative grassroots programs in over 1,000 Hispanic communities served by LULAC Councils.
---
Greetings Friends and Members of LULAC, 


The following grant opportunities are currently accepting applicants. These grants support programmatic efforts in partnership with our LULAC councils, funding and community partners. 


LULAC provides these opportunities to both current and potential grantees based on availability and capacity. Check back periodically for updates or
click here
to sign up to be notified by email of future funding opportunities.
Make sure to follow LULAC on
Facebook
,
Twitter
, and
Instagram
to stay up to date of future activities.
---
Latina Entrepreneur Academy

The Latina Entrepreneur Academy is a part of LULAC's Women's Empowerment (WE) Initiative designed to train, motivate, and inspire women, especially those of Hispanic descent, to build their own businesses or enhance their existing ones. The academy will provide a series of informational sessions on various topics that will better prepare women entering the world of entrepreneurship. Through this initiative, we hope to nurture this entrepreneurial spirit and provide support to driven Latinas who seek to launch and/or expand business endeavors.
Nine (9) councils and/or community partners will be selected this program year and will be provided with a $5,000 grant. For more information please visit www.LULAC.org/academy.
RFPs are due on February 24, 2020 by 5:00pm MST via email to Pgarcia@LULAC.org.
Let's Stop HIV Together

Closes February 7th, 2020
In partnership with the Centers for Disease Control and Prevention and Partnering and Communicating Together (PACT), LULAC invites you to apply to the 2020 Healthy Communities Let's Stop HIV Together Stipend Opportunity in order to host an HIV/AIDS awareness event in your community.
Latinos are the second highest minority affected by HIV and in 2016 accounted for over 24% of new diagnoses in the United States. Through this funding opportunity, ten sites will be awarded a total of $2,000 which will allow councils to host an HIV/AIDS awareness event that will provide free HIV testing to their local community while combating the impact of HIV/AIDS in the Latino community.
Applications are due February 7th, 2020 at 6PM (PST) to TMendez@lulac.org.
For questions, contact TMendez@lulac.org.
For more information on this stipend opportunity please visit,
www.lulac.org/salud/opportunities
.
AT&T Access

AT&T Access offers low-cost wireline home internet service to low-income families in order to provide access to many families that cannot afford expensive services. To qualify for AT&T access, families must provide verification of their participation in the SNAP program.
LULAC looks to connect families to this opportunity through its network of councils and partners. Partners and councils are able to apply for microgrants that will allow them to feature AT&T Access information at community events and meetings. The microgrants will offer up to $500 per event, depending on the amount of reach the events will have.
The following requirements are needed to apply:
- Event must be held between October 1, 2019 and March 29, 2020
- Applications must be submitted at least 4 weeks prior to an event to qualify
- Event must reach at least 25 participants
- The majority of event participants must be 18+
- AT&T Access informational materials must be explained and distributed (provided by LULAC)
- Event must be held in one of the 21 states outlined below
To submit your application, please
CLICK HERE
Please ensure to email Sandra Caraveo, National Programs Manager at Scaraveo@lulac.org @LULAC.org and Priscilla Garcia, Program Coordinator at PGarcia@LULAC.org to ensure your application has been received.

Ford Driving Dreams

In response to the Coronavirus (COVID-19) public health crisis, Ford Motor Company Fund, the philanthropic arm of Ford, is working to provide assistance through its national partner nonprofits to diligently respond appropriately to the rapidly changing situation while continuing to serve Latino communities across the nation. Currently, Ford Driving Dreams, in collaboration with LULAC, is providing 50 grants to LULAC councils in the Ford Driving Dreams Network to support Hispanic students during the COVID-19 pandemic and provide relief efforts in their communities. 
Beyond the Ford Driving Dreams Grants COVID-19 initiative, Ford Fund is also supporting our communities by providing online resources for all ages along with an employee matching program. To learn more, please go to
fordfund.org/covid19
.
To apply for a Ford Driving Dreams COVID-19 Response grant, visit
www.lulac.org/covid19
.
For questions, contact us at
FDD@LULAC.org
 or visit
www.lulac.org/ford
.
Grow with Google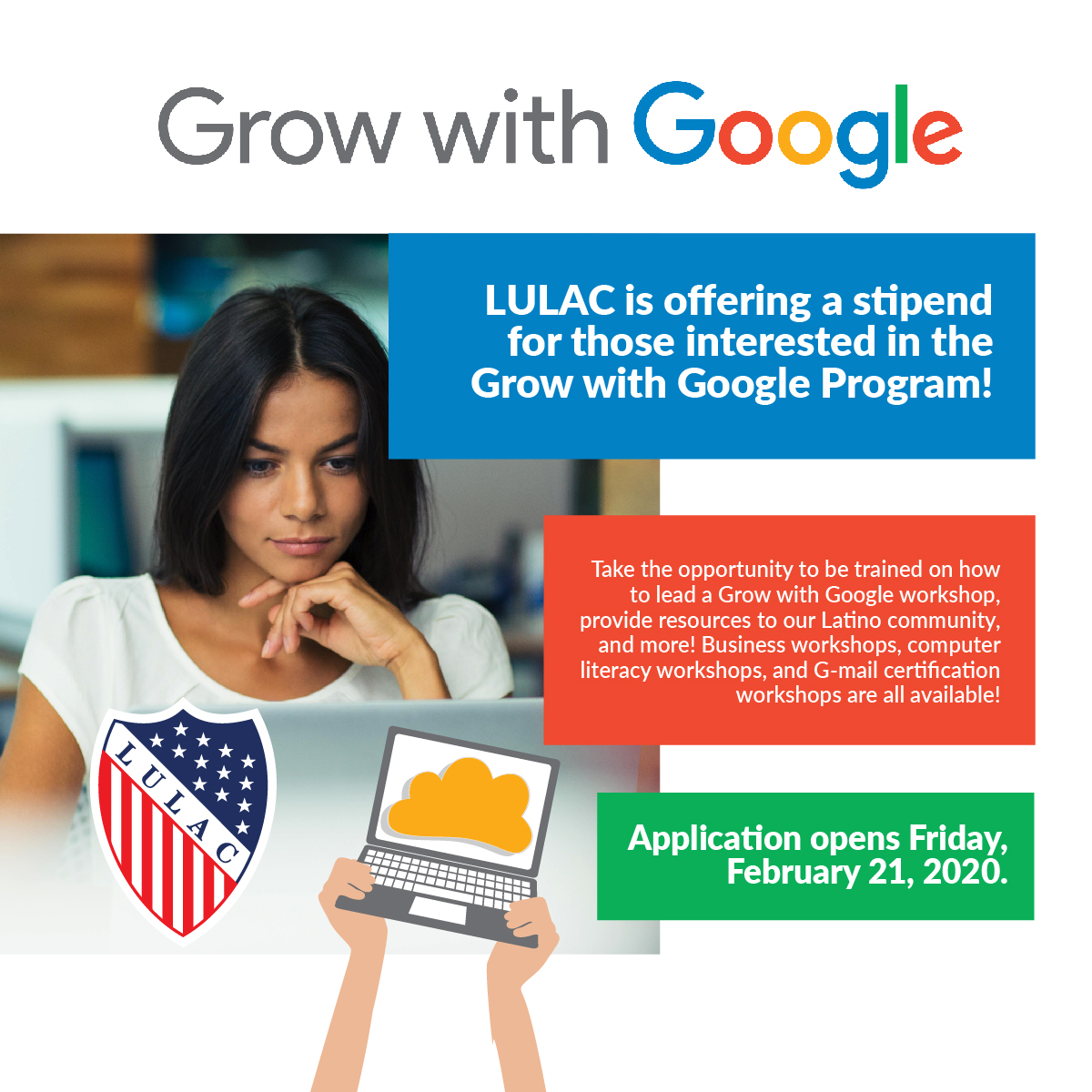 The League of United Latin American Citizens (LULAC) in partnership Grow with Google seek to connect and strengthen communities through LULAC's Empower Hispanic America with Technology Network.
Now more than ever, Americans need digital skills to land the jobs they want, advance their careers, and grow their businesses. Grow with Google aims to help by providing free training, tools and expertise. In partnership, we are launching Applied Digital Skills and Primer in Spanish to help you grow your skills, careers, or business for free!
As a Grow with Google partner, we are helping create economic opportunities for the over 41 million Spanish speakers in the US by making our training tools and resources available in Spanish for anyone to access and help Spanish speakers in the US learn the right skills to advance their careers and grow their businesses.
LULAC's tech centers will be providing the curated curriculum for public use to improve digital use through free digital skills workshops and one-on-one trainings to help job seekers, small business owners, students, educators, and entrepreneurs.
Hornitos Spirit of Independence

Coming Soon