Roger C. Rocha Jr.
Biography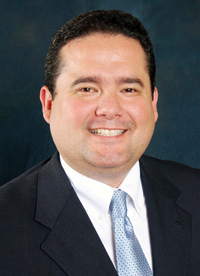 Mr. Roger C. Rocha, Jr. currently resides in Laredo, Texas and was elected on July 11, 2015 to the office of LULAC National President. Mr. Rocha believes in giving back to the community through service, professional excellence and assisting those who wish to continue with their educational dreams.

He has served in numerous positions within LULAC such as the State Director for Texas LULAC and National Treasurer. He currently serves on the LULAC National Board, The LULAC National Education Service Centers (LNESC) Board of Directors, The Ser Jobs for Progress National Board of Directors and The Laredo Next Generation Rotary Club Board of Directors.

He earned his undergraduate degree in History with a minor in Political Science in 1993 and received his Masters degree in Business Administration from Texas A&M University in Laredo, Texas in 2010. His professional career began by working for AT&T for 16 years and currently he owns Rocha Primary Care, LLC which is a licensed Home Health Care facility that provides medical services to our Nations Veterans.

He has received numerous professional recognition awards from AT&T and personal awards from LULAC such as the Texas LULAC Man of the Year in 2000, Veterans Service Advocate, Communitarian and Advocate of Community Service recognition from PPEP, Inc., the LNESC recognition award for Service and Commitment, was recognized as a Paul Harris Fellow by the Laredo Next Generation Rotary Club, The Leadership Award for Community Service from The American GI Forum, the Young Leaders Award from the Island of Puerto Rico and from The U.S. State Department it's Distinguished Citizen Diplomat Recognition.