Paul Andow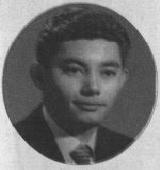 28th president - elected at the 1963 convention held in Corpus Christi, Texas. Served one term.
Andow, a native of El Paso and an attorney led LULAC when the civil rights movement was just beginning, voicing concerns for which LULAC had been working quietly for more than 30 years. His most cherished moment was visiting with President John F. Kennedy on the last evening of Kennedy's life. This occurred in Houston on November 21, 1963. President Kennedy, in Texas on a political trip, visited Houston's LULAC members. Andow recalled that the First Lady addressed the LULAC audience in Spanish and President Kennedy spoke about the Alliance for Progress. President Kennedy had a free hour before going to a Democratic meeting, and out of more than 1,000 invitations he chose to spend that hour with LULAC. Nineteen hours later President Kennedy was dead.
Andow was responsible for incorporating LULAC as a State of Texas corporation during his term in office. "LULAC teaches us to be good American citizens, decent human beings," he said. "I would say that LULAC has been very important in my life," he adds.