Margaret Moran
Biography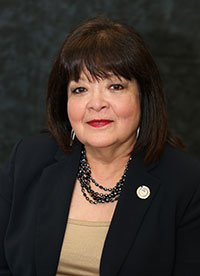 Margaret Moran was elected as National President at the League of United Latin American Citizen's 81st National Convention in Albuquerque, New Mexico on July 17th 2010. Founded on February 17, 1929, for more than eight decades, LULAC has advanced the economic condition, educational attainment, political influence, health, workforce development and housing rights of Hispanics through more than 1000 councils and community-based programs.

As a LULAC member, Moran's involvement with the organization spans more than three decades. She has served in many roles, including LULAC National Parliamentarian, National Vice President for Women, Texas State Director, Texas Deputy State Director, San Antonio District XV Director, District XV Treasurer and President of Council #4421. Additionally, Moran serves on the Board of the LULAC National Educational Service Centers (LNESC) and is passionate about her work in education. She was a co-founder of the LNESC San Antonio Center and has been involved with the LNESC Young Readers Program.

"I am honored to serve in this national role. LULAC is a non-partisan group that consists of people from all walks of life and perspectives. Our organization must move forward by continuing to recruit and inspire youth and young adults to participate," says Moran. "We are all equal and will stand United for equal rights, respect and dignity".

Her community involvement is underscored by her participation on a variety of civic boards, including the Instituto de los Mexicanos en el Exterior (IME), and the American Bar Association-Commission on Hispanic Legal Rights and Responsibilities. Moran serves as the chairwoman of the board of directors of the Hispanic Association on Corporate Responsibility (HACR) and serves as the Vice-chairwoman of the board for SER-Jobs for Progress National.

Moran has received numerous honors and awards for her continued service to LULAC and her community, including: the Puerto Rican Solidarity Award, the Civil Rights Award and the Lifetime Achievement Award from District XV, the LULAC National Presidential Commendation, LULAC National Women's Hall of Fame Inductee, the Dr. Anita Del Rio - Latina Leadership and Community Service Award. She has been recognized as the 2014 101 Most Influential Latinos by the Latino Leaders Magazine and Target recognized Moran's leadership by establishing the Margaret Moran National Scholarship to help send Latinas to college.

Moran is a native of San Antonio and is married to Oscar Moran, former National President of LULAC during the mid-1980's. Her election marks the first time a husband and wife both served as LULAC National President. She is also only the third woman in the organization's 85-year history to hold the position. The Moran's are the parents of two children and three grandchildren.

President Moran is retired from the University of Texas Health Science Center at San Antonio.