John J. Herrera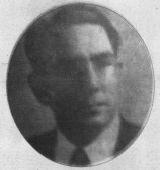 21st president - elected at the 1952 convention held in Corpus Christi, Texas. Served one term.
John was the son of a San Antonio policeman. He descended from one of the 14 original families to settle in San Antonio. John's early life was one of struggle. However, it was also a life of fulfillment and unending satisfaction. His working life began in the cotton fields of Texas and stretched to the beetfields of Michigan.
He was a member Houston Council #60 from its beginning and served in every elected position at the council level. The passage of time never dulled the anticipation with which he looked forward to the meetings and the sharing that they entailed.
The highlight of his LULAC career, after his term as National President, was the day that he found himself, as part of a team of LULAC lawyers, practicing law before the United States Supreme Court. On this historic day, this group of lawyers argued the exclusion of Pedro Hernandez from a jury panel in the State of Texas. This became the famous landmark case known as "Hernandez versus Texas."
During his administration, the national officers of the American GI Forum and LULAC held joint sessions. His administration collected funds to fight the continuing segregation of Mexican American children in Pecos, Texas. He traveled to Arizona and New Mexico, organized, and reorganized many men, ladies, and youth councils - 53 in all. He was proud that he left over $50,000 in the treasury.
LULAC News said this of his administration; "Great strides were made to spread the word of LULAC throughout the states of Texas and New Mexico. He established 15 LULAC districts in Texas and 4 in New Mexico, so that the District Directors would be able to keep LULAC closer to the people. He undertook the first steps to build a shrine in Corpus Christi, Texas, to depict the history and the founding of LULAC.
Herrera consulted with many past officers and founders during troubled times. "I get very emotional about this," he said with misty eyes, "because these were our founding fathers. I approached these giants with timidity but they welcomed me and gave me worthy advice. All my personal associations and much of my personal inspiration I owe to LULAC."