Hector Godinez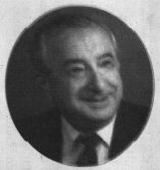 26th president - elected at the 1960 convention held in Phoenix, Arizona. Served one term.
Born on the grounds of the San Diego Mission, Godinez attended schools in Santa Ana, California, and entered the Armed Services after his high school graduation. He participated in the Allied Invasion of France and the ensuing major battles that led to victory in Europe. He returned home in 1946 and went to work for the Post Office as a clerk, rising to the position of Southern California District Manager of the U.S. Postal Service. At the same time, he attended Santa Ana College at night, majoring in Business Administration.
In 1946, Godinez joined LULAC Council #147. He served in every office of his local council. In 1955, he became Director of his LULAC District. In 1958, he became State Director of LULAC in California. In addition, in 1957 he became LULAC National Vice President. At the end of his term as National President, LULAC was a strong, viable organization with a surplus in its treasury and new councils.
Other positions that Godinez has held include
President of the Rancho Santiago College
Founder and first Chairperson of the Board of Directors of Banco del Pueblo
Member of the California Attorney General's Advisory Commission on Police-Community Relations
President of the Santa Ana Chamber of Commerce
Member of the Santa Ana Urban Development Commission