Hector Flores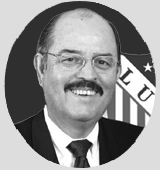 47th President Hector Flores of Dallas, Texas was elected National President on June 29, 2002 in Houston, Texas.
Mr. Flores is Director of Recruitment and Retention for the Dallas Independent School District where he is responsible for the recruitment and retention of teachers, administrators, and other professionals for 2nd largest urban school district in Texas. Prior to holding this position, Mr. Flores served as Minority Recruitment Specialist for the school district.
Previously, Mr. Flores served as an Equal Opportunity Specialist for the Office of Civil Rights within the Department of Health, Education, and Welfare, from 1973 - 1983. In 1983, Mr. Flores returned to the United States Department of Justice as a Conciliation Specialist where he dealt with allegations of police brutality, minority recruitment, and issues with the potential to provoke civil disturbances. In this position, he served in the Community Relations Services Department for the Dallas Regional Office. Mr. Flores also served as a police officer for the San Antonio Police Department from 1965- 1972.
A member of the League of United Latin American Citizens for over 28 years, Mr. Flores has served in many LULAC leadership positions including: the National Treasurer; as Vice President for the Southwest; Deputy Texas State Director; District Director of North Texas, District III; President, Vice President, and Secretary for Councils #100 and #272.
Additionally, Mr. Flores serves as the National Chair of the LULAC National Educational Service Centers. His commitment to his community is underscored by his participation on numerous boards, including SER: Jobs for Progress and the Greater Dallas Hispanic Chamber of Commerce, among other city and non-profit boards.
Mr. Flores was born in Dilley, Texas, and earned his B.A. degree from St. Mary's University in San Antonio, Texas, in 1971, the first high school and college graduate in his family.
Mr. Flores is married to Gertrudis Tula Flores, a retired bilingual teacher, for thirty-six years and together, they have three children.
Mr. Flores has received numerous honors and awards for his continued service to LULAC, including: the Ohtli Award from the Government of Mexico for Recognition for Assistance to Immigrants, 2000; the LULAC National Man of the Year Award, Brillante Award, the Greater Dallas Hispanic Chamber of Commerce's Education Award, Leadership Dallas Award, the National Volunteer Activist Award and the National IMAGE Award.