Frank Valdez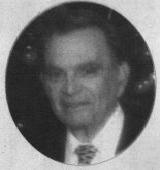 27th president - elected at the 1961 convention held in El Paso, Texas and at the 1962 convention held in Anaheim, California. Served two terms.
Valdez, a registered architect, was National President during a time of reorganization. During his administration, LULAC was in 17 states and plans to expand into other states began immediately. A start to offer a life insurance program to LULAC members began, although subsequent administrations did not make this a reality. Appropriately, this was the beginning of LULAC's venture into housing with the purchase of the project in El Paso. Valdes was the architect on several other LULAC housing developments - San Antonio, Corpus Christi, and Sinton, Texas.
Valdes started his practice as an architect in 1952, heading his own firm in San Antonio since his graduation the same year from the University of Texas with a bachelor's degree in that field. His firm designed many buildings in the city of San Antonio. His designs include; the federal office building, the Texas Employment Commission building, several schools and churches, and a solar-cooled elementary school.
Valdes held many important offices in LULAC. He was the president and secretary-treasurer of LULAC Council #2. He was State Director of the Texas LULAC organization. Other positions that he has held include,
Member of the Board of Directors of the San Antonio Urban Renewal Agency
Member of the San Antonio Planning Commission
Member of the Board of Directors of the San Antonio Public Broadcasting Television Station
Member of the Board of Directors of the Folkloric Festival of the Institute of Texan Culture
Member of the Board of Directors of the San Antonio Symphony
Past President of Sembradores de Amistad
Member of the American Institute of Architects
Member of the San Antonio and of the Texas Society of Architects
He married Magdalena Valdes of Leguna Beach, California. He and his wife had four children - Frank, Lance, Janina, and Damian Omar.