Frank Pinedo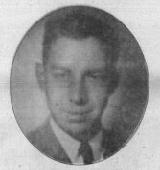 23th president - elected at the 1954 convention. Served one term.
Pinedo was born in Austin, Texas, on September 17, 1925, and graduated from Austin High School in 1943, having entered the V-5 Naval Reserve Program as a senior. He continued the V-5 Naval Reserve Program at Southwestern University and 16 months later was sent to midshipmen's school in New York City, where he was commissioned an ensign in the Naval Reserve in 1945.
He was on active duty until 1946 and in the Naval Reserve in a Law Company until 1974 when he retired with the rank of Lieutenant Commander. Returning to college in 1946 and majoring in government, Pinedo graduated from the University of Texas in 1948 with a Bachelor of Arts degree and in 1950 with a law degree. He was admitted to the bar in 1950, practiced law in Austin until 1950 when he was appointed assistant state attorney for the Securities and Exchange Commission (SEC) office in Houston, becoming attorney in charge in 1958.
Pinedo left the SEC in 1960 to enter private law practice, first with a firm and then by himself. In 1968, he formed a partnership with Austin Wilson and Jerry G. Hill. Later, he went back into law practice by himself, specializing in corporate and securities law.
Other positions that Pinedo has held include
Vice-Chairperson of the Houston Chamber of Commerce's Governmental Affairs Committee
Chairperson of the Houston Chamber of Commerce's Crime Control Committee
Legal Advisor of the American GI Forum
Member of the Board of Trustees of the Houston Legal Foundation
Member of the Biracial Committee of the Houston Independent School District
Pinedo married the former Edith O'Kruhlik of Praho, Texas, and had three sons.