Frank J. Galvan, Jr.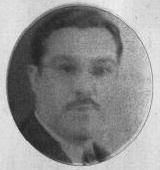 8th president - elected at the 1936 convention held in Laredo, Texas. Served one term.
Frank J. Galvan, Jr., was born February 11, 1908 in Santa Barbara, Mexico. He married Dulce Chaves and they resided at 7263 Highway East in El Paso County. He was the first national president from El Paso, Texas.
Frank graduated from the Jefferson University in Dallas, Texas. He began his law practice in 1932, later becoming a partner in the firm of Galvan and Galvan. He was a member of the American Bar Association and of the Texas State Bar.