Ezequiel Salinas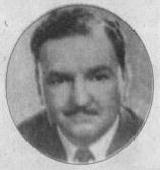 11th president - elected at the 1939 convention. Served one term.
Ezequiel was born March 20, 1908 in Laredo, Texas. He attended the Laredo public schools and in 1933 graduated from the Law School of the University of Texas. He received a scholarship to the International School in Mexico City with the University of Mexico where he obtained a law degree. He began his private practice in Laredo in 1935 and became General Counsel of the Housing Authority in the city of Laredo. He was instrumental for bringing the first public housing units to Laredo. In 1939, he became assistant district attorney.
In January 1942, Judge Salinas entered the service of the State Department where he received a special assignment to the Ambassador in Montevideo, Uruguay. He remained in the Foreign Service for five years. In 1947, he returned to Laredo and reentered the private practice of law. In 1950, he became the first native born and the first Latin American elected District Judge of Laredo, though some had served in an appointed capacity.