Eduardo Morga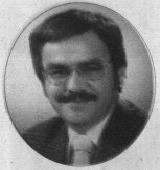 37th president - elected at the 1977 convention held in Los Angeles, California. Served one term.
Morga a native of Los Angeles now residing in Huntington Beach, California. He attended Theodore Roosevelt High School in East Los Angeles. He received an Associate in Arts Degree from Compton College, a Bachelor of Science Degree from UCLA, and has done post-graduate work at Cal State in Los Angeles. He is a certified public accountant working as a supervisory auditor for the Department of Defense since 1958. He is married to the former Aurelia "Dee" Gonzales.
He has held the following position,
A founder of Image, the national Hispanic organization for federal and other public employees
Member of the Santa Ana Draft Board for two years
Member of the Orange County Manpower Commission, a private industry council dealing with the implementation of Title 7 of the Comprehensive Employment Training Act (CETA). As a member of this group, he received an invitation to the White House for a briefing in 1978.
Member of the Board of Directors of the Mexican American National Organization, that made news in May, 1979, by publishing a full-page advertisement in the Los Angeles Times informing President Carter of his unfulfilled promises to Hispanics.
The highlight of his administration was the focus on international relations. He met with Mexico's President, Jose Lopez Portillo four times to discuss how to better the conditions of undocumented workers in the United States and how Chicanos and Mexicans could work together for common goals. His proclamation that Chicanos and Mexicans are natural allies made national news and triggered criticism from commentators. Tying into an existing scholarship program, LULAC was able to augment the number of scholarships offered to U.S. Hispanics by Mexico from 50 every five years to 50 annually.
Morga also involved LULAC in the struggle to end police brutality against Hispanics. After the Jose Campos Torres police beating and drowning of 1977 in Houston, Morga visited with the Houston police chief. The police chief agreed with Morga that a committee of citizens was needed to advise him on police relation with the Hispanic community. He was very active in seeking to improve the performance of the justice system toward Hispanics.
Morga has been a LULAC member since 1969 and has held the following positions,
National Treasurer for two terms under the Administration of Pete Villa
State Director of the California LULAC Organization for two terms
Vice President of the Far West for one term
Member of the Board of Directors of the LULAC Educational National Service Centers (LNESC)
Member of the Board of Directors of SER - Jobs for Progress