Antonio M. Fernandez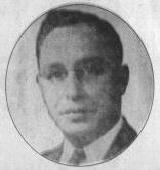 12th president - elected at the 1940 convention. Served one term.
In 1924, he married Cleo Chavez of Raton, New Mexico and they had five children. He holds the distinction of being the only LULAC president that has been a U.S. Congressman. He first became a court reporter for the Eighth Judicial District of New Mexico. Then he entered the law school at Cumberland University at Lebanon, Tenn. In 1931, the Supreme Court of New Mexico admitted him to the practice of law. In 1935, he served on the New Mexico legislature, focusing his efforts on improving the public school system. He maintained that interest while serving as chief tax attorney for the New Mexico State Tax Commission during 1935 and 1936. He was the first assistant attorney general of New Mexico from 1937 to 1941. Because of his efforts, the state upgraded the quality of teachers in the poorer counties of New Mexico. In the 1950s, he was a U.S. Representative from Santa Fe, New Mexico.