LULAC YOUTH
Introduction
The League of United Latin American Citizens (LULAC), founded in 1929, is the oldest and most widely respected Latino civil rights organization in the United States of America. LULAC was created at a time in our country's history when Latinos were denied basic civil and human rights, despite contributions to American society. The founders of LULAC created an organization that empowers its members to create and develop opportunities where they are needed most.

By forming or joining a LULAC Youth Council, high school students have the opportunity to make a difference and leave a lasting impact through their advocating efforts aimed at advancing the rights and issues that affect our Latino youth community.
LULAC Today
Today, with approximately 135,000 members throughout the United States and Puerto Rico, LULAC is the largest and oldest Latino organization in the United States. LULAC advances the economic condition, educational attainment, political influence, housing, health and civil rights of Latino Americans through community-based programs operating at more than 1000 councils nationwide. In addition, the LULAC National Educational Service Centers (LNESC), LULAC's educational arm, provides counseling services to more than 18,000 Latino students per year at fourteen regional centers.

LULAC provides more than half a million dollars in scholarships to Latino students each year, conducts citizenship and voter registration drives, develops low-income housing units, conducts youth leadership and mentoring programs, and seeks to empower the Latino community at the local, state, and national levels
More Information
Upcoming Events
May 2014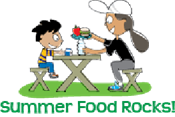 "Engaging Youth Volunteers in Summer Meals" Webinar
Tuesday, May 27th at 2:30PM-3:30PM EST
Summer is quickly approaching and it's time to start planning your summer activities. Please join Food and Nutrition Service on learning how you can help feed children this summer by incorporating youth engagement. This webinar is aimed to provide ideas and ways that youths can not only participate in the Summer Food Service Program (SFSP), but also give back to their community by volunteering and advocating for the program. The webinar will consist of a brief overview of the program, specifics on how youths can get involved, and some best practices! To participate in the webinar please remember to register here.
June 2014
July 2014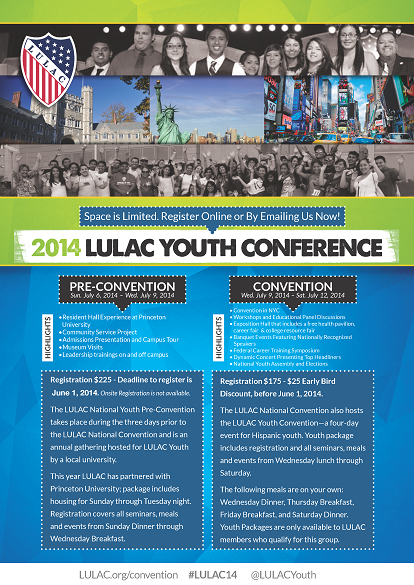 2014 LULAC Youth Conference
Sunday, July 6, 2014 - Saturday, July 12, 2014
The LULAC Youth Conference is divided into two parts: Pre-Convention and Convention.

The LULAC Youth Pre-Convention— takes place during the three days prior to the LULAC National Convention and is an annual gathering hosted for LULAC Youth by a local university.
Dates: Sunday, July 6, 2014 - Wednesday, July 9, 2014.
Location: Princeton University in Princeton, New Jersey.

The LULAC Youth Convention— a four-day event for LULAC Youth. The LULAC Youth Convention package includes registration and all seminars, select meals and events from Wednesday lunch through Saturday.
Dates: Wednesday, July 9, 2014 - Saturday, July 12, 2014.
Location: New York Hilton Midtown in New York, New York.

Event hashtag: #LULAC14

Facebook: Share this event and stay up to date with conference updates by clicking here.

Twitter: @LULAC
How to Contact Us
The LULAC National Office and the LULAC National Youth Programs Coordinator are located in Washington, D.C. at:

1133 19th St., NW, Suite 1000
Washington, D.C. 20036
Office: (202)833-6130 ext. 114
Fax: (202)833-6135
Karina Castellanos
KCastellanos@LULAC.org

The Membership Services Department and the membership coordinator are located in the LULAC Office in El Paso, Texas at:

201 East Main, Suite 605
El Paso, Texas 79901
Office: (915) 577-0726
Fax: (915) 577-0914
Guadalupe Morales
GMorales@LULAC.org

The LULAC National Youth President:
Roman Rodriguez
romey.rodriguez1212@gmail.com