50+
Become a fan of LULAC on Facebook!
Hispanics/Latinos and Cardiovascular Diseases: Statistics
This statistical fact sheet, produced by the American Heart Association outlines the leading causes of death among Hispanic/Latino men and women.  Click here to see the report (pdf)


Health Information Quicker and Easier
The U.S. Department of Health and Human Services (HHS) has launched an improved and more accessible version of healthfinder.gov which is a federal website designed to help people stay healthier. Click here to read more.


LULAC Texas State Elderly Newsletter
Submitted by Richard Sambrano, Texas State Deputy Director for the Elderly, click here to view the latest newsletter!


Links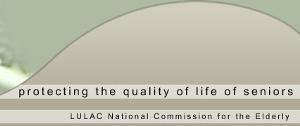 Project Amistad

Women: Stay Healthy at 50+

Men: Stay Healthy at 50+

AARP

Segunda Juventud

Alzheimers' Association

National Association for Hispanic Elderly

National Hispanic Council on Aging

Special Report: Medicamentos Diluyentes de la Sangre

More Information from LULAC


For more information about LULAC's 50+ Initiatives, please contact Berta Urteaga, National VP for Elderly.