Partnership Opportunities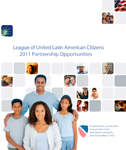 Eighty three years ago, the founders of the League of United Latin American Citizens created what would become the largest Hispanic civil rights and service organization in the United States. Since our founding, LULAC has developed a tremendous track record of success advancing the economic condition, educational attainment, housing, political influence, health and civil rights of Hispanic Americans.  Read the full letter from Margaret Moran, LULAC National President.
Building Fund
The LULAC National Office has entered one of the most exciting times in our 83-year history: the acquisition of our first national headquarters in Washington, DC. LULAC's new national headquarters will be housed on the 10th floor of 1430 K Street, NW, in our nation's capital.
Learn more about the LULAC Building Fund.
Programs
Join the Movement! – LULAC – La Voz de la Comunidad
Annually, LULAC engages its network of network of 135,000 community volunteers, 900 local councils, 56 community technology centers and 15 LULAC National Educational Service Centers to empower Hispanic families through direct service programs and advocacy in 34 states, the District of Columbia and Puerto Rico. If your council is interested in supporting LULAC's 2012 programs in civic engagement, civil rights, economic empowerment, education, health, housing, immigration, public service or technology please contact the LULAC National Office at 202-833-6130.

LULAC Leadership Initiative: The LULAC Leadership Initiative is an ambitious project to revitalize Hispanic neighborhoods from within by creating a nationwide network of innovative grass roots service programs in over 700 Hispanic communities served by LULAC Councils. The project will identify best practices, publish a model program guide, and provide organization and training through ten regional offices. Total yearly budget: $4,000,000.

LULAC Convention: The annual LULAC National Convention convenes the LULAC membership in a week long event consisting of workshops, exhibits, banquets, the election of LULAC's national officers, and a general assembly to set the organization's priorities and establish its positions on issues of critical concern to the Hispanic community. Topics at the convention include education, women's issues, employment, federal workshops, leadership, health, small business development, and corporate relations. Total yearly budget: $2,000,000.

The LULAC National Legislative Awards Gala brings together members of the U.S. Congress, the LULAC membership, business leaders, and community activists in Washington, D.C. during February or March. This formal banquet highlights national policy issues that are having an impact on the Hispanic community. Total yearly budget: $500,000.

LULAC Technology Centers: This network of 60 community technology centers provides free high speed internet access and computer-related training to students, parents, and low income individuals. The emphasis is to empower those without access to the internet by providing that access and training them on using computers and the internet to do their school work, college and financial aid searches, job training, job-searches, and managing their money. You may sponsor a particular number of centers with your company's branding. Total yearly budget: $1,000,000.
LULAC Youth Leadership After School Program: This leadership development program for at-risk youth encourages participants to conduct community service projects, meet with positive role models and explore alternatives to violence and crime. Programs operate during the school year at various locations throughout the United States. Total yearly budget: $200,000.
LULAC Summer Youth Leadership Conference: In partnership with the University of New Mexico (UNM) and the U.S. Department of Energy, the LULAC Leadership Conference is a high school summer leadership camp that focuses on preparing young Latino student from across the United States as leaders for the future. UNM being the only Hispanic Serving Institution classified as a Carnegie "Very High Research Institution" in the continental United States and 37 percent of its overall student body identifying themselves as Hispanic/Latino/Mexican on demographic surveys, it is the ideal place to host the program. Over two weeks, 50 students participate in educational events, seminars, and field trips investigating a selected group topic that students will write research reports on and deliver final presentations. Total Annual Budget: $250,000.
LULAC Financial Literacy Project: This project provides training to Hispanic consumers about how to manage their finances and make prudent purchasing decisions. The project develops model training programs for helping members of the fastest growing consumer market to make wise financial decisions. LULAC utilizes a variety of bilingual training material and webinar training programs to equip local grassroots leaders with the tools needed to execute the financial literacy workshops in their communities. Total yearly budget: $100,000.
LULAC NEWS: LULAC publishes a semi-monthly magazine to keep the LULAC membership informed of the organization's activities and to highlight the successes of the organization. In addition, the LULAC NEWS carries national and regional information about issues of importance to the Hispanic community. The magazine is mailed to all LULAC members and to other influential individuals. The cost of production is financed through advertisements placed in the publication. Total yearly budget: $150,000.

Immigration & Citizenship: The immigration and citizenship program assists individuals applying for US citizenship to complete their applications and to place them in citizenship classes. The program utilizes an 800 number for interested individuals to call for assistance and referral. The program also works closely with LULAC councils throughout the country to provide outreach to the immigrant community and set up citizenship and English classes when needed. Total yearly budget: $250,000.
Workforce Anti-Discrimination Education Campaign: LULAC conducts outreach and education workshops aimed at educating employers, potential victims of discrimination, and the general public about their rights and responsibilities under the Immigration and Nationality Act's anti-discrimination and employer sanctions provisions. LULAC feels that it is vital that the Latino community knows the laws that protect all work authorized individuals from national origin discrimination, unfair documentary practices relating to the employment eligibility verification process, and from employer retaliation. Total yearly budget $60,000.

Civic Engagement: LULAC's Civic Engagement Initiative seeks to grow the understanding of the long-term connection between positive public policy, civic participation, and voting on Latino communities through issues advocacy thereby strengthening democratic participation in the United States. Civic engagement programs include: English language instruction, civic literacy courses, non-partisan voter registration efforts, and civic participation training. Participants are encouraged to volunteer in their local communities and dialogue about the successes and challenges in their cities to develop community-centric solutions to address community needs. A series of issue-based and educational workshops equip participants with comprehensive advocacy training, skills to engage their local, state, and national elected officials and interact with the media in order to increase their capacity as effective advocates for underserved Latino communities. Total yearly budget $700,000.
Voter Education & Registration Project: LULAC's national voter education and registration campaign increases Hispanic participation in the democratic process by engaging local councils in registering voters and educating voters about important issues. Total yearly budget $350,000.
Digital TV Transition Education Project: On LULAC's 80th birthday, February 17, 2009, all fullpower broadcast television stations are required to stop broadcasting in analog and continue broadcasting in digital only. This is known as the digital television (DTV) transition. In order to inform and prepare vulnerable populations such as the elderly, disabled, and immigrants, LULAC distributes educational materials among its National, state and local networks; at kiosks in its 56 technology and education service centers; and features links to government coupons on the LULAC website, national e-mail blasts, and printed publications. Total yearly budget $60,000.

LULAC Health Initiatives: The LULAC National offices advocates for policies and legislation, training, and public health education programs that improve the physical, behavioral, and mental health and well-being of Hispanics in the United States and Puerto Rico. LULAC's health initiatives focus on health issues that affect Hispanics in higher percentages than the general population including insurance, prescription drugs, diabetes, heart disease, cancer, asthma, and AIDS. LULAC's newest Health Initiative, Celebre La Vida, seeks to establish community festivals that promote "Healthy Living" among Latinos. The health festivals will educate Latino communities on health and wellness, promote physical activity and fitness through a soccer tournament and Latino dance aerobics, will feature health screenings and dietary counseling, and provide healthy Latin American food options. Total yearly budget $1,000,000.

Housing Initiative: The LULAC Housing Initiative raises the level of understanding and awareness regarding housing issues. LULAC promotes home ownership and foreclosure awareness among Hispanic Americans and advocates for more responsive housing legislation and regulations with the regard to the Hispanic community. LULAC conducts bilingual homeownership and foreclosure prevention and intervention seminars to educate Latino homeowners. Total yearly budget: $850,000.

Civil Rights Conference: The National LULAC Civil Rights conference raises the level of understanding and awareness regarding civil rights issues in education, housing, immigration, voting rights, employment, contracting, and lending opportunities. The LULAC Civil Rights commission hosts an annual civil rights symposium which convenes LULAC members, Hispanic activists, scholars, community members, government representatives and corporate representatives to develop strategies that advance the civil rights of the Hispanic Americans. Total yearly budget: $250,000
Women's Conference: The LULAC Women's conference brings together women from across the country to develop leadership and employment programs for Hispanic women. The conference features workshops on conducting a job search, opportunities in higher education, advocacy training and Hispanic women's health issues. The total cost is $250,000.

LULAC Education Summit: The National LULAC Education Commission develops strategies and programs that meets the educational needs of the Hispanic community. The education commission conducts an annual education summit that brings together representatives from grass roots organizations, State Hispanic Commissioners, presidents of national Hispanic organizations, educational program experts, corporate representatives, and students to develop strategies that guide the efforts of LULAC, other participating organizations and state governments in addressing the educational needs of the Hispanic community. LULAC also provides workshops throughout the United States to train parents on how to become effective advocates to improve their children's educational opportunities. Total yearly budget: $250,000.
LULAC Youth & Young Adults Mural Projects: Each year in various cities throughout the United States, local middle and high school students, community role models from local high schools, colleges, universities, and LULAC Youth and Young Adult members work in a collaborate effort to paint four mural projects depicting positive images of Latino youth with messages of empowerment, education, and striving for success. Such art education projects become vehicles for team building, leadership development, and peer advising. The murals projects inspire local community members and are an excellent membership outreach opportunity for LULAC Youth and Young Adults councils. Total yearly budget: $60,000.

National Office—Washington, DC: LULAC has established a permanent national office in Washington, D.C. with a full time staff. This office coordinates implementation of LULAC's programs, impacts policy and legislation at the national level, and handles the day to day administration of the national organization. The staff also compiles issue briefs to keep the LULAC membership informed of important national legislative and policy initiatives. Total yearly budget: $1,784,620.
Executive Office—San Antonio, TX: The LULAC Executive Office houses the LULAC National President and staff. This office coordinates the National President's agenda, handles meetings, and coordinates LULAC activities. Total yearly budget: $785,000.
LULAC State Offices—Austin, TX; Sacramento, CA: The LULAC state offices advocate for the Hispanic community at the state level and handle constituency requests within the state. Our goal is to establish offices in LULAC's six geographical regions in order to expand our direct service programs offered. Total yearly budget: $250,000 each.
LNESC Programs
Educational Centers: The LULAC National Educational Service Centers seventeen-site network of counseling centers assists eligible youth to continue in and graduate from high schools and enroll in institutions of higher learning. On an annual basis, LNESC enrolls over 16,000 youth into its comprehensive educational programs and provides assistance to approximately 5% of all Hispanic students enrolling in college. Total yearly budget: $3 million. Per center start-up cost: $250,000.
LULAC National Scholarship Fund: Managed and administered by LNESC, this scholarship program recognizes and rewards student achievement in the Hispanic community by awarding more than half a million in scholarships each year. The program matches funds raised locally by LULAC councils with those of LNESC's corporate contributors to increase the impact of the scholarships. In 2004, 75 LULAC councils, representing 51 cities in 15 states, and 18 national corporations participated in the LNSF effort. Over the past 26 years, over $13 million dollars has been awarded to almost 25,000 students. Total yearly budget: $1,000,000.
Hispanic Leadership Opportunity Program: The LNESC Hispanic Leadership Opportunity Program develops the leadership skills of Hispanic youth through the observation and analysis of social, economic, and political issues and the leaders who deal with those issues. In addition, the program engages the participants in a leadership project within their own community. The program currently operates in the following 8 cities Albuquerque, Chicago, Corpus Christi, Houston, Kansas City, Pueblo, Pomona and Wichita. Total yearly budget: $200,000. Per site cost: $12,000.
LULAC Washington Youth Leadership Seminar: Administered by LNESC, the LULAC Washington Youth Leadership Seminar is designed to provide students with an understanding of how our government works and to explore the current issues we face as a nation. Each October, 50-55 outstanding Hispanic high school juniors and seniors are selected to attend a three-day educational seminar in Washington, D.C. The seminar includes meetings with senators and congressional representatives, White House officials, corporate executives and other Washington professionals, and a tour of the city. Total yearly budget: $52,000..
Young Readers: The Young Readers program encourages children to make reading a life-long habit. Thirty first, second and third graders meet weekly for six weeks during the summer with a reading teacher in a program designed to make reading fun. Reading sessions are enhanced by trips to the movie theater, the museum and the newspaper printing press. Games, treats and prizes help turn an educational experience into a fun summertime activity kids look forward to week after week. LNESC will implement the Young Readers program in 20 cities in 2004. Total yearly budget: $100,000. Per site cost: $10,000.
Science Corps: The Science Corps program is designed to encourage Hispanic middle school students to increase their interest in the fields of mathematics and science. Twenty middle school students meet weekly during the school year with a science facilitator who involves them in entertaining science oriented activities, takes them on field trips to interesting places where they can see science in action, and exposes them to role models in scientific fields. Each month has one of the branches of science as its theme. In addition, the science facilitator helps the students to sponsor science related events at their school. LNESC will implement the Science Corps program in 20 cities in 2004. Total yearly budget: $200,000. Per site cost: $15,000.