2016 Emerge Latino Conference
Feb 23-25, 2016
Description: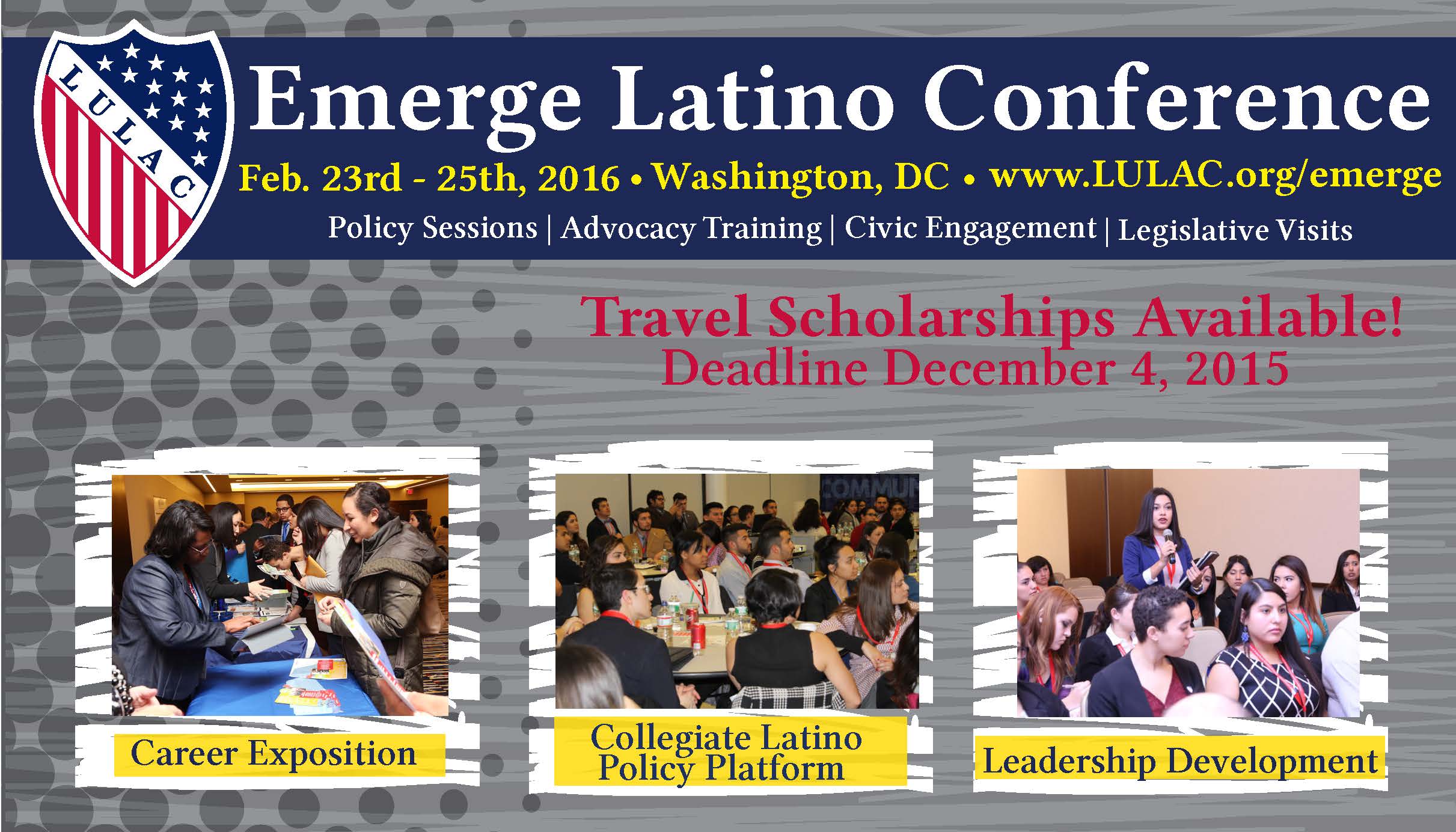 Emerge is a multi-day Latino leadership conference located in Washington D.C. that provides college students with public policy briefings on public health, education, and immigration. In addition, attendees of Emerge will receive training in civic engagement, advocacy, and program coordination. Emerge conference will be a 3 day 2 night event. The first night will include registration and an opening reception. The second day offers policy workshops on critical legislative issues affecting Hispanic Americans, such as, education, health, and immigration. The day concludes with LULAC's Legislative Awards Gala, an awards ceremony that recognizes key leaders who have served the Hispanic community across the country. The final day of the Emerge conference is focused on job readiness and hands on approach on how to do advocacy. There will be a career fair to explore job opportunities (corporate, non-profit, non-traditional, and government)
Location:
Event Hotel:
Mandarin Oriental
1330 Maryland Ave SW
Washington, DC 20024
Rate: $230.00

Emerge Student Hotel:
TBD
Contact:
Call (202) 833-6130 or send a message to Sindy Benavides at SBenavides@LULAC.org.
Free Registration! Register Here
Registration for this conference is free and the conference is open to LULAC Collegiate Councils and students groups affiliated with a college or university.
Forms & Documents
Conference Agenda (information)

Tuesday, February 23
11am to 2pm Community Service Project – Pre-Emerge Conference
4 pm to 6 pm Registration - Emerge Conference
6:30 to 8 pm Student Welcome - Emerge conference
8 pm to 10 pm Opening Plenary

Wednesday, February 24
7am to 9 am Platform Development
8 am to 9 am Registration - Legislative Conference
9 am to 4 pm Policy Briefings
3 pm to 6 pm LULAC Career Expo
Noon to 2 pm Innovation & Leadership Luncheon
6 pm to 7 pm Pre Gala Reception
7 pm to 9 pm Awards Dinner

Thursday, February 25
7 am to 9 am Advocacy Training
9 am to 5 pm Advocacy Day on Capitol Hill
1 pm to 2:30 Capitol Hill Power Luncheon
5 pm to 8 pm Congressional Reception

Exhibitors
Coming Soon
Sponsors & Partners
Coming Soon