Jasmin Chavez
LULAC State Director for Virginia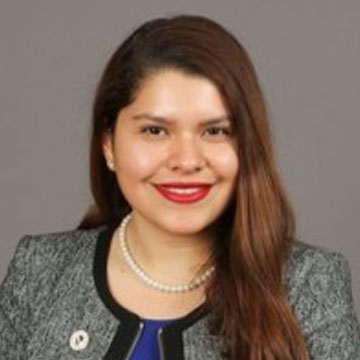 Jasmin is a young professional who works in immigration law and policy spaces. She has been advocating for the rights of her immigrant community since she was 14 years old. Growing up, she organized town halls and clothing and food drives, to ensure that her community members were not only informed about their rights but had enough to eat and clothes to wear.

Jasmin's passion for serving the community led her to create a LULAC council at her undergraduate institution. Jasmin is the immediate past President and Founder of the McDaniel College LULAC Council. In 2018, she was named the Young Adult Woman of the Year at the LULAC National Convention in Phoenix, Arizona. She is now serving as the Virginia LULAC State Director. Jasmin is also the Director of Engagement for the CHCI-DC Alumni Association Chapter.

In addition, Jasmin is an alumnus of the Congressional Hispanic Caucus Institute, the White House Initiative on Education Excellence for Hispanics Internship program, the Smithsonian Latino Center's Young Ambassadors Program, the UCLA Dream Summer Fellowship, the Donald J. Weidner Summer for Undergraduates Program and the HACU Corporate Internship Program. In 2014, Jasmin was the featured speaker for the Congressional Hispanic Caucus Institute's 37th Annual Awards gala.

Jasmin hopes to run for office in five years
---
Panel Information
Wednesday, March 16
6:30 PM EST
Emerge Welcome & Networking Power Hour
LULAC leadership, Members of Congress, and other government leaders will open the Emerge conference and offer insight into what to expect during the next two days. This is a great opportunity to meet fellow EMERGE attendees and LULAC leaders from around the country to build relationships, advance their careers and make an impact in the community.
Thursday, March 17
11:10 AM EST
Emerge Workshop: Managing Difficult Conversations on Bias and Equity
As we have navigated a global pandemic for the past two years, Latinos have seen first hand the role that health equity plays in education equity and economic opportunity. The lack of access to healthcare, access to vaccines and access to a safe working environment creates a situation where someone without access to proper healthcare has to decide between putting themselves in high-risk situations to get an education or economic opportunities, or they try to protect their health at the potential cost of education or economic opportunity. Our panel of experts discuss improving a system to provide equitable access to healthcare, economic opportunities, and education for Latinos.
Buy Tickets for the Gala
Register for Emerge