Michael Vazquez, Director of Religion and Faith, HRC Foundation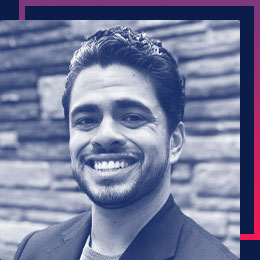 Michael Vazquez is an experienced public theologian, homiletician, and community organizer who has worked to advance justice and inclusion in religious spaces -- affecting institutional policy change and changing the public narrative in support of the LGBTQ community and communities of color.
With an astute mind for both theology and policy, Vazquez serves as the director of the Human Rights Campaign Foundation's Religion and Faith Program leading the organization's efforts to advance equity initiatives in faith communities and helping policymakers to understand how their faith calls them to advance pro-equity legislation.
Before joining HRC, Vazquez served as the Founder and co-Executive Director of Brave Commons, an LGBTQ advocacy organization serving at Christian Colleges and Universities around the United States. While at Brave Commons, Vazquez trained LGBTQ students in organizing, strategic communications, and policy negotiation. A former InterVarsity Christian Fellowship/USA campus staff, Vazquez has also served as an organizing fellow at Faith in Public Life and helped launch the Vine & Fig Collective.
Vazquez is currently finishing his Master of Theological Studies program at Duke University's Divinity School. He grew up in a military family traveling the world before going on to get a Bachelor of Arts in Political Science from Weber State University. Vazquez is a devout Catholic and lives in Washington, D.C.
---
Panel Information
Friday, August 14
3:00 PM EST
LGBTQ+
Mi Gente, Siempre: Addressing Transphobia and Homophobia in the Latinx Community
Sponsor: AARP & HRC
Register for this Event