Elsie Valdés, National VP of the Women's Commission of the League of United Latin American Citizens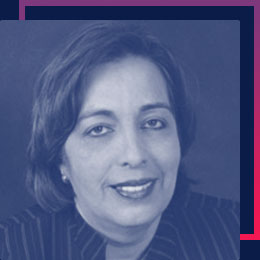 Elsie Valdés Ramos, LULAC National Board as Vice-President for Women is a proud Puerto Rican and an American leader who has devoted her working career in defense of the civil rights of Latinos.

She is the daughter of a father who toiled as a farmer and a mother who dedicated herself to public healthcare. The values of hard work and being a resource to others prepared Elsie for her life ahead. Following her public education, she went on to pursue advanced studies towards a Masters in Administration.

She served as a middle school teacher for more than three decades and is a former Special Assistant for Municipal Affairs for the President of Puerto Rico's Senate. Also, Special Assistant to the Secretary of Education as Program Director for ZELDA, formed to create school zones free of drugs and firearms. In addition, Elsie has served as a Commissioner of Security for her region on the island.

She is also a businesswoman who successfully owned and operated a family retail operation for ten years before being asked to once again undertake civic leadership roles: Founder of Catholic Action, 14 years in ONU focused on international relations, more than 30 years of service to LULAC, Founder of Puerto Ricans for Statehood, three years leading Puerto Rico's Get Out the Vote plus five times elected to public office.

She is also recipient of the FBI Award for Service to Security, more than 18 national recognitions by LULAC including four Presidential Medals which is the highest honor awarded by the League.

As importantly, Elsie has been married 45 years to Carlos Lizardi Martinez, a retired state military police officer, member of Puerto Rico's National Guard and a veteran. They are parents to two successful children and four grandchildren.
---
Panel Information
Friday, August 14
2:00 PM EST
Gender Equity
Feminista y Resistencia: The Latina Experience and How To Build Support and Community
Sponsor: GEICO
Register for this Event
---
Friday, August 14
4:00 PM EST
Puerto Rico
Unidos Con Puerto Rico
Register for this Event