Rosa Rosales, 45th President of LULAC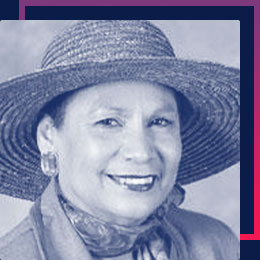 Rosa Rosales was re-elected unanimously for a fourth term as LULAC National President on July 18, 2009 at LULAC's 80th National Convention in Puerto Rico. She was first elected July 1, 2006 at LULAC's 77th National Convention. She leads the largest and oldest Hispanic civil rights organizations in the United States.
Ms. Rosales is the Founder and Director of the National Association of Public Employees (NAPE), a San Antonio based union. Prior to holding this position, Ms. Rosales served as Office Director of the Service Employees International Union (SEIU) from 1997-99.
Previously, Ms. Rosales served as Regional Director of the National Association of Government Employees (NAGE) from 1995-97 and than as National Labor Representative and Field Supervisor for the National Association of Government Employees from 1983-95. Ms. Rosales served as Co-Founder and Charter Member of the United Public Employee Association and Field Supervisor in the Neighborhood Anti-Crime Program (a federally-funded local program based on the west side of San Antonio from 1978-1980).
A member of the League of United Latin American Citizens, her involvement with the organization spans over three decades. She has served in many roles, including most recently National Vice President for the Southwest. In 1994, she was re-elected to a record-breaking fourth term and the second woman to serve four years as LULAC Texas State Director and was the first woman district director for district 15 which is the largest district in the nation.
Additionally, Ms. Rosales serves on the Board of the LULAC National Educational Service Centers (LNESC) and is passionate about her work in education. Her involvement in the community is underscored by her participation on numerous civic boards, including SER Jobs for Progress and the San Antonio Boy's Club Advisory Council among other city and non-profit boards.
She has received numerous honors and awards for her continued service to LULAC, including: American GI Forum Leadership Award, the LULAC Women of the Year Award and the Cesar Chavez March for Justice Award.
Ms. Rosales was born in San Antonio, Texas. She earned her B.A. degree in Liberal Arts from the University of Michigan.Rosa has been married to Dr. Rodolfo Rosales for 39 years and has 3 sons: Rodolfo Rosales Jr., Miguel Angel and Gabriel Yoatequia. She is also the proud grandmother of Bianca Rosales.
---
Panel Information
Thursday, August 13, 2020
7:00 PM EST
Immigration
LULAC's Historic Role in the Struggle to Achieve Inclusive Immigration Legislation
Sponsor: JP Morgan Chase
Register for this Event