Senator Carmelo Rios, Puerto Rico Senate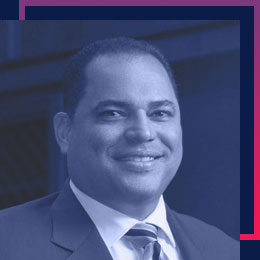 Senator Carmelo J. Ríos-Santiago is the Immediate Past President of the National Hispanic Caucus of State Legislators. In early 2018, he was elected President of NHCSL after having served as Vice-President for Membership, Parliamentarian and Vice-President.

Senator Ríos-Santiago has served in the Puerto Rico Senate since 2005 and is the current Senate Majority Leader.

He was born on May 21, 1973 in San Juan, Puerto Rico to Carmelo Ríos-Nazario and Lydia Santiago-Estrella. Ríos attended primary school at the American Military Academy in Guaynabo. During his high school years he studied at the Florida Air Academy at Melbourne, FL where he graduated with a rank of Lieutenant Colonel.

He began his college education in Valencia Community College, where he received an Associate's degree in Economics. After being awarded a sports' scholarship, he transferred to Bethune-Cookman University, where he played baseball in the NCAA Division I, and completed a Bachelor's degree in Political Science and Economy.

In 1995, he entered the Pontifical Catholic University of Puerto Rico Law School where he joined the Student Bar Association and the Law Students National Association. Additionally, he was a founding member of the local chapter of the law fraternity Delta Theta Phi and President of the Student Council. Carmelo Ríos obtained his Juris Doctor in 1998, after participating in a program sponsored by the Ortega y Gasset Foundation in Toledo, Spain that allowed him to study International Law at the Complutense University of Madrid.

Ríos began working as a lawyer and legal aid to the Commissioner of Municipal Affairs, and the Director of the Legal Division of the Puerto Rico State Insurance Fund Corporation. On 2001, he started his own law firm specializing in Administrative, Civil, and Criminal Law, representing around ten municipalities and the International Longshoremen Association.

His political career started in 1999, when he ran for Guaynabo's Legislative Assembly, and was selected as the Assembly's Majority Leader. In the 2004 general election, he was elected as one of the youngest Senators of his class representing the Bayamón District of Puerto Rico, and chaired the Municipal and Financial Affairs Committee.

In November 2008, he was re-elected and designated to chair the Government Affairs Committee. He was also the Vice-President of the Municipal Affairs Committee, Secretary of the Public Safety and Judiciary Affairs Committee, and member of the Consumer Affairs and Public Corporations Committees.

Ríos is also member of the executive committee of the National Association of Latino Elected and Appointed Officials (NALEO), Council of State Governments (CSG) and National Conference of State Legislatures (NCSL).
---
Panel Information
Friday, August 14
4:00 PM EST
Puerto Rico
Unidos Con Puerto Rico
Register for this Event