Edgar R. Monterroso, MD, Senior Epidemiologist on the Emergency Operations Center COVID19 Response at the CDC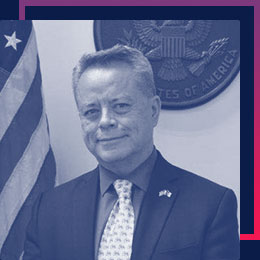 Edgar Monterroso, MD, MPH is a Senior Epidemiologist in the Center of Global Health at the Centers for Disease Control and Prevention. He currently serves on CDC's Emergency Operations response for COVID19 as a co-team lead for Globally Mobile Populations, Global Migration Task Force. On the COVID19 response he has worked on issues affecting Latino/Hispanic communities specifically. Most recently he was deployed to Richmond, VA where he led the first all Latino-CDC scientist team in response to a COVID19 outbreak in a Latino/Hispanic community in Henrico and Chesterfield Counties.
Dr. Monterroso has over 30 years of domestic and international public health experience. His areas of expertise encompass infectious diseases, including HIV/AIDS, STDs and Tuberculosis, as well as vaccine preventable diseases. Dr. Monterroso has conducted and led public health programs and evaluations in 20 Latin American and Caribbean countries, and eight African countries. He also provided epidemiology training in US and international settings.
He is a graduate of the Universidad de San Carlos de Guatemala, where he received his Physician and Surgeon Degree, and Harvard School of Public Health in Boston, MA, where he received a Master of Public Health degree (MPH). He is also a graduate of CDC's Epidemic Intelligence Service and of the Leadership and Management Institute. He has authored or co-authored more than 40 journal articles and written numerous technical reports and white papers. His public health efforts have been recognized with several awards.
He is fluent in Spanish, Portuguese and has basic of French and Tzutuhil language skills.
---
Panel Information
Thursday, August 13, 2020
6:00 PM EST
Health and Wellness
Our Health: La Primera Riqueza es la Salud
Sponsor: AARP
Register for this Event