Tsi-tsi-ki Félix, News Anchor and National Television Host, "Política Ya con Tsi-tsi-ki Felix"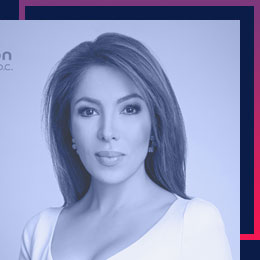 Tsi-tsi-ki Félix, is a multiple award winning journalist, and international speaker. She is currently the host of "PoliticaYa" a national politics show in Washington DC, and the news anchor for "Univisión Washington Newscasts". Tsi-tsi-ki, from Michoacán Mexico, carries strong roots in her name which means "flower" in Purépecha, a strong pre-Columbian civilization that continues to thrive today. As the oldest of 4 girls, Tsi-tsi-ki moved to the U.S. at a young age, 15, when she gave her first formal radio presentation on Radio Exito in Reno, Nevada. Ever since, she has immersed herself in community betterment, mentoring, and directing youth and women's groups to strive for self and social goals.

Tsi-tsi-ki has twice been speaker for TED talks on subjects such as Immigration, Freedom of the Press and Personal Adversity. She has anchored Noticiero Univision, and Despierta America newscasts, and her work has been recognized with multiple Emmy Awards for investigative series. She has won twice the coveted TV News Emmy for "Outstanding Achievement by a News Anchor" among other honors throughout her career.

Tsi-tsi-ki has received multiple Emmy Awards for her excellent work on camera, and she won the coveted TV News Emmy for "Outstanding Achievement by a News Anchor" in DC (2016) and serving as Chicago's only solo female news anchor (2008). Among other honors, Tsi-tsi-ki received the "Best Spanish News Presentation in Radio," given by the Achievement in Radio Awards. She was a recipient of the Peter Lisagor Award for "Best Foreign Newscast in the Midwest" (2012), and the "Enterprising Woman of the Year Award," given by the Hispanic Coalition of Independent Media (June 2013). Featuring Tsi-tsi-ki in their February, 2013 popular magazine, Sherren Leigh, Editor and publisher of Today's Chicago Woman (TCW) said, "Tsi-tsi-ki Felix, our cover profile this month, is an Emmy award winning TV Anchor. Her enthusiasm, energy and background all combine to predict a bright future to Tsi-tsi-ki."
---
Panel Information
Thursday, August 13
5:00 PM EST
Opening Plenary: Civil Rights and Equity
Tu Lucha Es Mi Lucha: Standing Together As Allies
Sponsor:
Register for this Event