Lisa Carrington Firmin, MS, Colonel, USAF Ret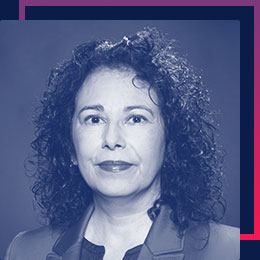 Lisa "La Coronela" Carrington Firmin is the Associate Vice President for Veteran and Military Affairs and Military Liaison at the University of Texas at San Antonio (UTSA). As the founding leader for Veteran and Military Affairs, she oversaw the consolidation and realignment of all veteran support services on campus and the creation of the Center for Military Affiliated Students to better support and serve veterans and military-affiliated students. To help transition veterans to UTSA more efficiently, she instituted priority registration, developed a tailored Veteran Orientation program, and instituted scholarships for all military-affiliated students. Her collaborations resulted in case studies and the creation of an online training module highlighting Veteran Culture Competence for faculty and staff. Firmin serves as a conduit between UTSA and the veteran/military community.
Featured on LatinBiz Today, Everyday People Make the World Go Round in 2020, on San Antonio's Movers and Shakers radio show in 2019 and in San Antonio Magazine in 2018. In 2016, Firmin authored Deploying Leadership: Steady Skills to Serve in Any Environment in the Phi Kappa Phi Forum and authored a book chapter titled "The Transition: Colonel to Associate Provost," in Adapt and Overcome, Essays on the Student Veteran Experience. In 2013, she co-authored a book chapter titled "Serving Student Veterans at the University of Texas at San Antonio: Accomplishments and Challenges," in Building Bridges for Student Success: A Sourcebook for Colleges and Universities.
In her previous role, as Associate Provost for Faculty/Student Diversity and Recruitment, she founded the UTSA Top Scholar program, combining merit scholarships with student enrichment experiences enhancing the quality of each incoming freshman class. She developed the first Presidential level Distinguished Diversity awards program for faculty, staff, and students and championed the addition of Gender Identity/Gender Expression to the university's nondiscrimination policy.
Firmin retired from the United States Air Force as a Colonel and its most senior ranking Latina officer, after leading UTSA's ROTC program to the best in the nation and being awarded a Bronze Star Medal for her efforts in combat as an Expeditionary Mission Support Group Commander in Iraq's Sunni Triangle. She has received many honors and accolades such as the Legion of Merit, Bronze Star, the University of Texas at San Antonio President's Distinguished Diversity Award, the United States Hispanic Chamber of Commerce National Latina Leader award, the Governor of Texas' Yellow Rose award, the National Diversity Council's Trailblazer and Most Powerful and Influential Women in Texas awards, Texas Diversity Council's Greater San Antonio LGBT Ally Award, the Hispanic Women's Network of Texas Trailblazer Award and the Distinguished Alumni Award from Texas A&M University Kingsville. Firmin serves as a member of the Secretary of the U.S. Department of Veterans Affairs Advisory Committee on Minority Veterans, a board member of the Texas A&M University-Kingsville University's
Foundation Board of Trustees, a member of the Veterans Healthy Minds Advisory Council – South Texas, a life member of the Honor Society of Phi Kappa Phi, and a life member of Veterans of Foreign Wars. She holds the National Diversity Council's Certified Diversity Professional designation and is a Certified True Colors® Facilitator.
Firmin is also the Founder and CEO of Carrington Firmin LLC which provides consulting services in the areas of Leadership, Veterans, Transitions, and Diversity, and Inclusion.
---
Panel Information
Friday, August 14
11:00 AM EST
Veterans Affairs
#IamVanessaGuillén: Honoring and Protecting Those Who Serve Our Country
Register for this Event