2019 Ford Driving Dreams Grants Program Awardees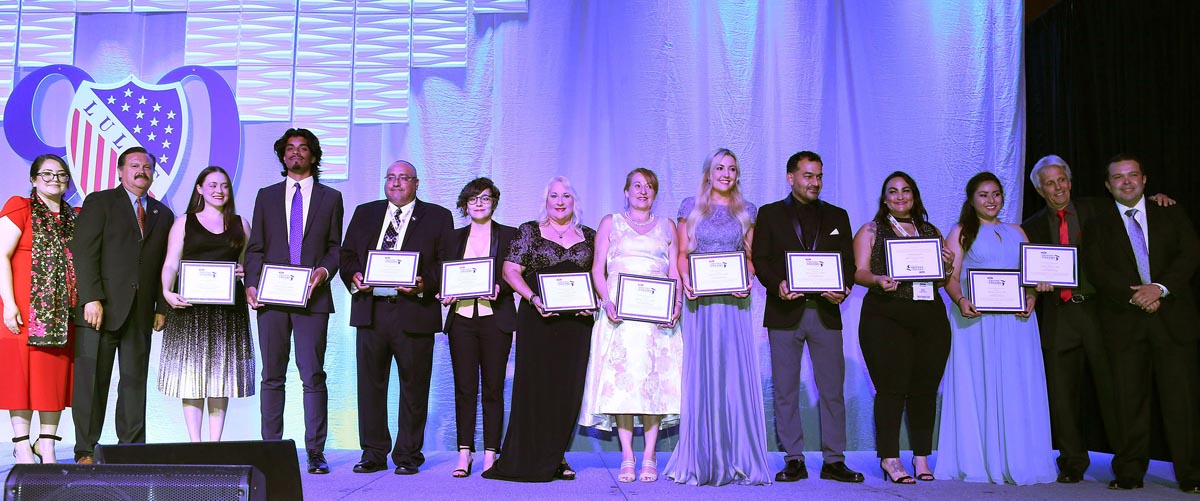 In 2019, eight LULAC Councils were selected to receive $20,000 each over two-years to implement a local dropout prevention program in partnership with an educational entity. In addition, three veteran LULAC Councils (grantees from 2017-2019) were selected to receive additional funding for the continuation of their exemplary programs for a third academic year.

Read the media release.
Arizona
Phoenix, AZ - LULAC Council #1208

LULAC Council #1208 and Chicanos Por La Causa (CPLC) Community Schools have partnered to provide students and their families the tools necessary to improve students' access to higher education and professional careers. CPLC Community Schools will encourage students to participate by offering the program as part of their graduation curriculum in hopes to better prepare graduating students and their families for higher education.The program design and curriculum will consist of a series of workshops, campus visits and tours, STEAM labs, and student-led service learning projects.
California
Anaheim, CA - LULAC Council #2848
Council #2848 and Anaheim High School ILC are working to get students to look towards the future and realize that a world of opportunity awaits them through their Independent Learning Center (ILC) program. The program has a wide array of resources and activities to provide the academic, social, and emotional support and motivation for students to gain confidence in their abilities. Some of these activities include career guest speakers from diverse fields, college field trips, volunteering, science nature hikes, and science labs. Through these experiences, they hope to increase students' level of hope and awareness as to the many options for them after high school.

Follow them on Facebook.
Buttonwillow, CA - LULAC Council #3272 

Council #3272 and Taft Oil Technology Academy are working together to empower at-risk students in their community to pursue STEM-related academic paths. Their council's STEM-related talent base will share their expertise with students through engineering, biology, geology, and electrical engineering workshops. In addition, students will have the opportunity to participate in professional etiquette workshops, hear from motivational speakers, and receive academic tutoring to help them prepare for a bright future.
Hollister, CA - LULAC Council #2890

LULAC council #2890 is working with Gavilan College and San Benito High School for a third year to provide students in Hollister, CA with career and personal development courses, STEM activities, and college access workshops. In addition, students receive individualized attention and mentorship to help them graduate from high-school on time and prepare for the next step of higher education.

Follow them on Facebook.
Illinois
Pilsen, IL - LULAC Council #5294 

Council #5294 and Centro Sin Fronteras are working together for a third year to develop Chicago's youth leadership skills by having college students mentor high school pupils, and by putting great emphasis on exposing local youth to a wide array of career options. Through the Youth Health Service Corps, Council #5294 is helping develop the doctors and nurses of the future. By organizing community health clinics, this program also provides Chicago students with the opportunity to give back to their communities and drive them to go further.
Woodstock, IL - LULAC Council #5296

Council #5296 has partnered with Waukegan to College (W2C) to help at-risk students in the community get back on track to graduate high school and by providing them with services that will help them to pursue a college degree. Their four major projects include ensuring students connect with programs that will expose them to opportunities leading to STEM careers, further expanding their mentorship program in partnership with PepsiCo, recruiting students for the LULAC National Convention, and award scholarships to top-qualifying students. Elements of their multifaceted program involve monthly workshops, one-on-one counseling, weekly tutoring, summer enrichment, mentoring and college access programming.

Follow their educational partner, Waukegan to College, on Facebook.
Iowa
Muscatine, IA - LULAC Council #371

Council #371 and Muscatine County Agricultural Ext. District are working together to empower Latino students and their parents through greater collaboration between parents, staff, youth, and community partners to promote academic success and exploration of various options for post high school education. Their program will provide families with invaluable resources and knowledge to help students reach higher education. They will provide workshops through the Juntos: Together for a Better Education program; academic coaching; afterschool club meetings with a focus on leadership, civic engagement, communication, and healthy living; as well as special activities centered around STEAM and leadership development.
West Liberty, IA - LULAC Council #310

LULAC Council #310 and the West Liberty Community School District (WLCSD) believe in the power of a focused instruction and community programming to help students complete high school and postsecondary education. Their programs include The Dual Language Program, STEM Robotics Summer Camp, and Noche de Ciencias. Additionally, they plan to provide students with the opportunity to form a team to participate in the First Tech Challenge (FTC) and First Lego League competitions. Their goal is to introduce students in the WLCSD to the skill set provided by STEM/STEAM programs and expose them to all the opportunities of education and careers that arise from these fields. A key factor for success will be the various partnerships they have throughout the community.

Follow their educational partner, West Liberty Youth Dream Catchers, on Facebook.
Pennsylvania
Philadelphia, PA - LULAC Council #20009

During its third year, Council #20009 and LNESC Philadelphia's will continue working towards their goal to help students realize their own career and life goals. Together, they want to help develop more leaders within the Hispanic community and provide quality educational and potential job opportunities. The council also provides tutoring, mentoring, help with college applications and financial aid resources, role models, and better access to transportation, all so that Philadelphia's youth can see a better future fueled by their academic achievement. These programs are meant to keep students from dropping out of school, a significant issue within the community, and provide them with the ability to experience a plethora of opportunities to enrich their future.

Follow their educational partner, LNESC Philladelphia, on Facebook, Twitter, and Instagram.
Puerto Rico
Cataño, PR - LULAC Council #14834

Council #14834 has partnered with No Limits Youth Ministry to create a better tomorrow for Latino youth in their community. They are addressing the desire of students to become leaders, professionals and entrepreneurs in the tech-industry by providing them the opportunity to engage and participate in a variety of workshops, including robotics design, body basic science, STEM, art design and video games.
Texas
Austin, TX - LULAC Council #22325

Council #22325 and LULAC National Educational Service Center Inc. (LNESC) plan to increase Latino youth graduation rates through a model of intensive academic intervention. They hope to give value to students' education beyond a transcript and fully immerse them in the possibilities available to them such as scholarships and internships. Their over encompassing program includes working with counselors, college visits, and diverse STEAM-focused workshops, amongst others, to help students attain the confidence to graduate and go on to pursue a path of higher education.