2018 Ford Driving Dreams Grants Program Awardees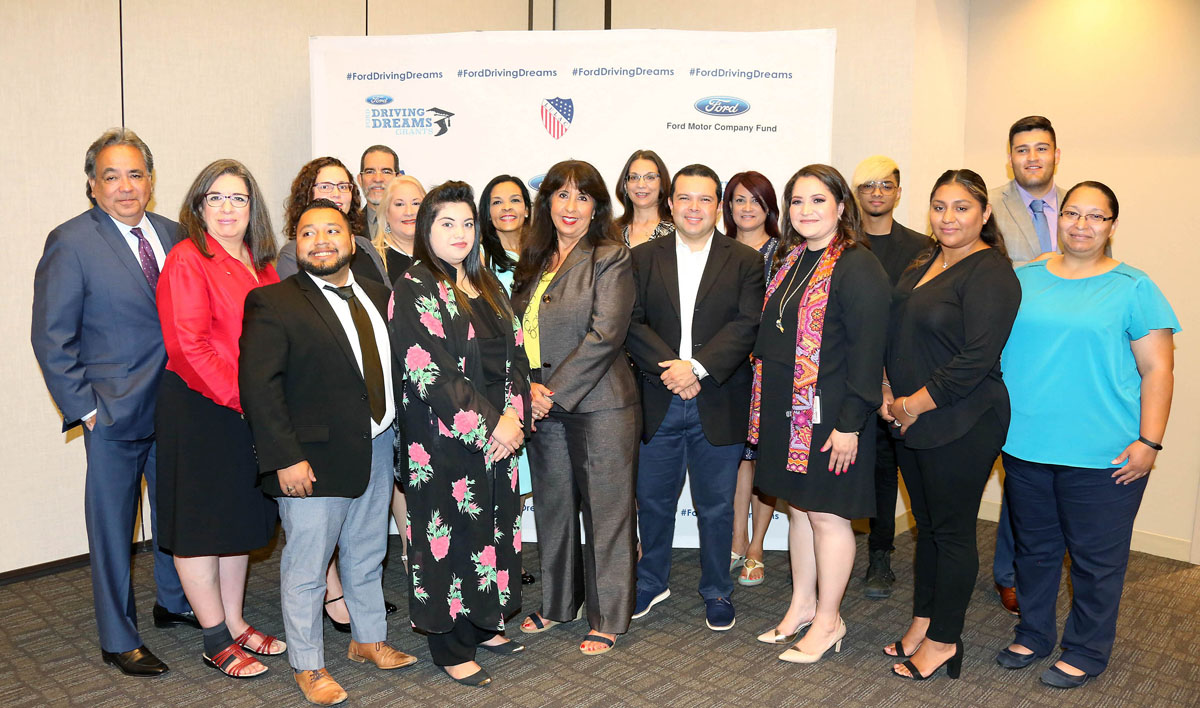 In 2018, eight LULAC Councils were selected to receive $20,000 each over two-years to implement a local dropout prevention program in partnership with an educational entity. In addition, two veteran LULAC Councils (grantees from 2016-2018) were selected to receive additional funding for the continuation of their exemplary programs for a third academic year.

Read the media release.
2018 Ford Driving Dreams Grantee Recipients
California
Oxnard, CA - LULAC Council #3026

Council #3026 and The Academy of Santa Paula's partnership has three main purposes: improving the Preliminary Scholastic Aptitude Test (PSAT) scores of thirty 9th grade students, helping Latino students who come from low-income families, and providing experiential education about STEAM professions. They also monitor course selection in order to ensure participants are enrolled in the appropriate university preparatory courses and that academic support is provided when needed. Ultimately, they want to increase the graduation rate by addressing social and academic needs in a culturally-relevant way.

Follow them on Facebook.
District of Columbia
Washington, D.C. - LULAC Council #11041

LULAC Council #11041 is working with Fundación Elena to ensure that Latino students in Prince George's County receive academic resources they would otherwise not have access to. The highly regarded dance school, Fundación Elena, supports underserved Latino students in Prince George's Country and with the Council, they hope to blend college preparation and cultural enrichment activities. They will draw on Hispanic traditions, focusing on serval key traits – strength, perseverance, imagination – to help cultivate student success and eliminate barriers to reach high school graduation through community and civic engagement.

Follow them on Facebook and Twitter along with their educational partner, Fundacion Elena.
Illinois
Waukegan, IL - LULAC Council #5273

Council #5273 has partnered with Waukegan to College (W2C) for its third consecutive year and together, their mission is to promote higher education in the Latino community. They provide at-risk students with one-on-one counselling, monthly workshops, mentoring, social-emotional support, academic support, college preparation and supplemental academic services such as field trips and college visits. The program will increase the percent of at-risk high school students who graduate from high school and pursue a college degree, preparing students for college who, without their intervention, may have dropped out. Through this initiative, students learn that through perseverance and passion, college is attainable.

Follow them on Twitter and their educational partner, Waukegan to College.
Indiana
Chesterton, IN - LULAC Council #5016

Council #5016 and Neighbor's Educational Opportunities (NEO) plan to improve the Latino high school completion rates, specifically in Porter and Lake Counties, by first removing barriers that students have identified as reasons for dropping out of high school. The council plans to offer an after-school extra-curricular student communications club called Student Voices. The purpose of the club is to implement an authentic cohort-based learning experience that will strengthen English language and academic skills, provide students with exposure to career opportunities and options in the STEM sector, and develop vital 21st Century skills and technical training.
South Bend, IN - LULAC Council #5025

Council # 5025 and La Casa de Amistad support an underserved Latino community in Northern Indiana and are currently the only culturally-responsive center in that community. The Adelante program was started by La Casa de Amistad to respond to the needs of Latino students and help them obtain academic support beyond the classroom setting in a bilingual and culturally-competent environment. The enrolled students are supported and engaged through a variety of techniques, such as tutoring to help with their immediate classroom struggles, pairing them with positive mentors and leadership development activities, among others.

Follow them on Facebook.
Puerto Rico
Toa Alta, PR - LULAC Council #15164

Council #15164 has joined various community-based organizations to increase the number of the Bayamon students pursuing high-tech careers by providing them with the opportunity to engage in fun, exciting project for the third year in a row. With a vision to engage underrepresented students with STEAM education, they hope these students will discover the simplicity and beauty of the world when exposed to education and excitement for Science, Technology, Engineering, Arts and Mathematics. They will recognize that they too have the ability to change the world through STEAM.
Texas
Big Spring, TX - LULAC Council #22294

LULAC Council #22294 and North Side Movement have created a program that will empower students to remain in school and further their education through computers, school supplies, inspirational guest speakers, job skills workshops, etc. They hope to help students express themselves through technology and STEAM education. They want students to use computers as resources but to also learn the ins and out of building them, understanding data, and repairing them. They believe technology, like each student, should evolve with the current and future times.

Follow their Council 22294 and their educational partner Northside Movement.
El Paso, TX - LULAC Council #9

LULAC Council #9 and the Boys & Girls Club of El Paso will provide five workshops throughout the course of the grant period to address leadership development in STEAM. This will help bridge the digital divide through partnering with the Boys & Girls Club of El Paso's digital centers and conducting workshops with local educators and professionals with careers in STEAM. They plan to recruit 30 students from two local high schools, hoping to create a reliable, trusted environment where they can learn and grow.

Follow them on Facebook.
Washington
Vancouver, WA - LULAC Council #47013

Together, Council #47013 and Upward Bound, will promote a college-going culture and help Hispanic students achieve their goals through the LNESC Upward Bound Program. The program allows students to participate in all LNESC Upward Bound Events, aiding them in building leadership skills, creating a sense of an inclusive community through the EHS Diversity Center, and having them present at the Clark Country Latino Youth Conference. They place students in positions of leadership to help them envision themselves as future leaders. They also provide the tools and training necessary to attain professional experiences and take advantage of networking opportunities.

Follow them on Facebook and Twitter.
Wisconsin
Milwaukee, WI - LULAC Council #340

Council #340 and El Puente High School, support STEAM initiatives by sharing a vision. They provide students with exposure to the use of technology and trades, as well as access to English and math college-level courses. This is encompassed in a high school dropout-prevention program, designed to provide Hispanic high school students with the interventions needed to increase their high school graduation rates. In Milwaukee, this program is essential to help students achieve graduation and a dreamed-off college degree. Together, they hope to increase Hispanic graduation rates and to create a solid pathway for post-secondary education.