Rep. Filemon Vela
U.S. Representative for Texas' 34th Congressional District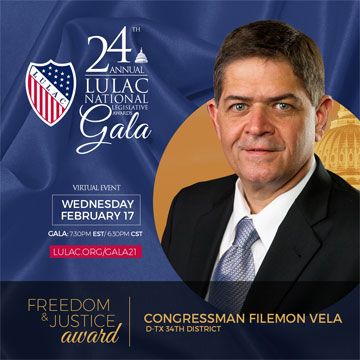 Congressman Filemon Vela represents the 34th Congressional District of Texas, which is anchored in Cameron County in the southernmost tip of Texas, and runs nearly 300 miles north to Gonzales County. The 34th District includes Brownsville, its largest city, as well as the King Ranch, Kingsville Naval Air Station, and the historic Texas town of Goliad. Born in Harlingen, Texas, and raised in Brownsville, Congressman Vela's roots run deep in South Texas. His ancestors purchased land from the McAllen family to establish the Laguna Seca Ranch where the first citrus orchard in Hidalgo County was planted. President Jimmy Carter appointed Congressman Vela's father, Filemon Vela Sr., as one of the first Hispanic federal judges, where he presided over the Southern District of Texas. Congressman Vela's mother, Blanca Sanchez Vela, served as the first, and to this day the only, female mayor of Brownsville.

Vela attended Saint Joseph Academy in Brownsville, Texas. After graduating from Georgetown University in Washington, D.C., he attended the University of Texas School of Law. His interest in public service grew from his work helping individuals seek justice in state and federal courts as an attorney for more than 20 years in South Texas.

Congressman Vela is a member of the House Agriculture Committee, where he serves as the Chairman of the General Farm Commodities and Risk Management Subcommittee. Vela joined the panel in 2013 at the beginning of his first Congressional term and served as the Vice-Ranking Member of the full committee during the 115th Congress. He was the only Texas Democrat appointed by the House of Representatives' Leadership to serve as a negotiator on the Conference Committee which drafted the 2014 Farm Bill, and was closely involved in its reauthorization in 2018. The Farm Bill is a comprehensive law which sets agriculture policy and funding for nutrition programs, including food stamps, for the next five years. Additionally, Congressman Vela holds seats on the Subcommittee on Livestock and Foreign Agriculture and the Subcommittee on Commodity Exchanges, Energy, and Credit.

Congressman Vela also sits on the House Armed Services Committee, where he has fought to ensure that U.S. servicemembers are prepared to respond to a range of military operations. He is committed to ensuring that servicemembers and their families have access to housing, healthcare and basic living necessities to sustain them through the challenges of military service. Congressman Vela is a member of the Subcommittee on Seapower and Projection Forces and the Subcommittee on Tactical Air and Land Forces.

In Congress, Vela has been a strong advocate for immigrant rights, education programs—including Head Start and Pell Grants for college students—and community health centers. He is vehemently opposed to the construction of a border wall and is focused on bringing peace and security to our neighbors in Matamoros and Reynosa. He is also working to bring jobs and economic development to South Texas through many efforts, including transforming the Port of Brownsville into a competitive deep water port.

Congressman Vela is married to Rose Vela, a former Justice on the Texas Court of Appeals, and they reside in Brownsville, Texas.
---
Gala Honoree
Wednesday, February 17
7:30 PM EST
Freedom and Justice Award
Register for the Gala
Register for the Summit