Jessica Rosenworcel
Federal Communications Commission Acting Chairwoman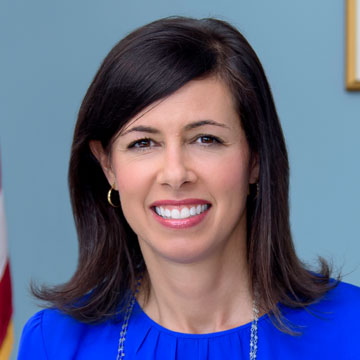 Federal Communications Commission Acting Chairwoman Jessica Rosenworcel believes that the future belongs to the connected. She works to promote greater opportunity, accessibility, and affordability in our communications services in order to ensure that all Americans get a fair shot at 21st century success. She believes strong communications markets can foster economic growth and security, enhance digital age opportunity, and enrich our civic life.

From fighting to protect net neutrality to ensuring access to the internet for students caught in the Homework Gap, Jessica has been a consistent champion for connecting all. She is a leader in spectrum policy, developing new ways to support wireless services from Wi-Fi to video and the internet of things. She also is responsible for developing policies to help expand the reach of broadband to schools, libraries, hospitals, and households across the country.

Named as one of POLITICO's 50 Politicos to Watch and profiled by InStyle Magazine in a series celebrating "women who show up, speak up and get things done," Jessica brings over two decades of communications policy experience and public service to the FCC. Prior to joining the agency, she served as Senior Communications Counsel for the United States Senate Committee on Commerce, Science, and Transportation, under the leadership of Senator John D. Rockefeller IV and Senator Daniel Inouye. Before entering public service, Jessica practiced communications law in Washington, DC. She is a native of Hartford, Connecticut. She is a graduate of Wesleyan University and New York University School of Law. She lives in Washington, DC with her husband and two children.
---
Panel Information
Wednesday, February 17
3:00 PM EST
Policy Fireside Chat with the Federal Communications Committee
Register for the Gala
Register for the Summit