Claudia Flores
Immigration Campaign Manager, Center for American Progress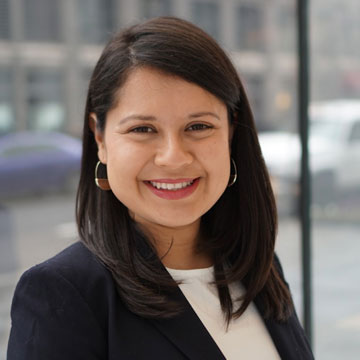 Claudia Flores is the immigration campaign manager at Center for American Progress. Prior to joining American Progress, she led the immigration policy portfolio for the National Latina Institute for Reproductive Health, where she worked on advancing federal and state legislation to expand health care access for immigrant families. Flores is deeply committed to meaningful immigration reform. During the 2013 to 2014 immigration debate, she worked with bipartisan leadership on federal policy relating to matters of immigration enforcement and protections for immigrant youth.

Flores holds a Bachelor of Science in political science from Santa Clara University. She is an alumna of the Congressional Hispanic Caucus Institute and New Leaders Council.
---
Panel Information
Wednesday, February 17
2:05 PM EST
Is Immigration Reform Finally Attainable?
After decades of fighting for meaningful relief for the 11 million undocumented immigrants, we now have the best opportunity to realize the dream of immigration reform. Democrats are in control of Congress, and advocates have the opportunity to push through a generous legislative package. In this session, you will learn about what you can do to help make legalization a reality.
Register for the Gala
Register for the Summit